We provide complete GPS tracking solutions that are affordable, reliable, comprehensive and easy-to-use. We also provide E-Log service to keep you compliant.
Our GPS tracking solutions are affordable, reliable, comprehensive and come with a convenient and easy-to-use web based interface.
With GPS tracking, you can effortlessly track your fleet and assets across North America in real-time so that you can…
Lower Operational Costs and Increase Performance. With GPS tracking, you'll have data that will help you monitor drivers and fuel so that you can improve driver performance and reduce fuel usage and idling. You'll also have data that will help you reduce emissions
Increase Driver Safety and Cargo Security. With GPS tracking, you'll know where your drivers and cargo are at all times.
Deliver Better Customer Service. With robust reporting and dispatching functions, you'll be able to streamline logistics and improve the service you deliver to your customers.
Popular applications of GPS tracking include fleets, commercial vehicles, trailers, and equipment.
Popular GPS Tracking Features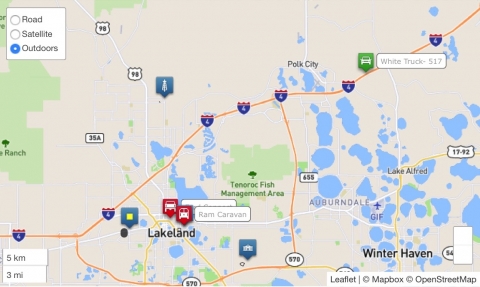 Some popular features of our GPS tracking systems include:
Viewing your fleet from your computer or your mobile phone
Updates to vehicle's location every 2-5 minutes
Phone and email notifications and alerts
History trail
Access control to the GPS data
Help with installing GPS tracking yourself
Training to learn how to use the system
Automatic reporting
Automatic updating of maps
System visibly hidden within vehicle
We understand that your truck operators are required to keep records of duty status, so when your E-log system needs service, we can help you right away.
We service E-Log systems like Qualcomm and Omnitracks, and since we can come to you to service your system, you'll be back on the road in no time.
Our full range of E-log services include:
Remote flash upgrades
Managing your inventory
Accurate maintenance records
Installations + Service
We expertly install our GPS tracking systems so that you know it's done right the right first time.
We also provide on-site service for any type of E-Log system.
We will take care of you in the days, months and years to come by providing mission critical repair and maintenance.
Learn more by visiting our Install + Maintain + Repair page.