We are your full-service support center by providing expert design, installations, maintenance and repair services – either in our shop or by coming to you – 24 hours a day, 7 days a week.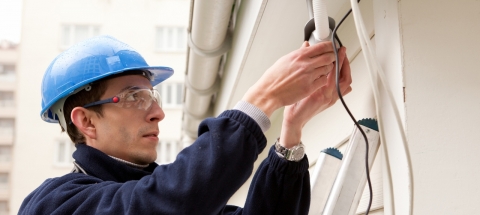 Fisher Communications Group is the name of our service center and handles the installations, maintenance and repairs of the equipment you have purchased from us – or from someone else.
Any Brand, Any Equipment
We service Kenwood, Hytera, Icom, and Vertex two way radios, but we're also here to help you with…
Other brands of two way radios and equipment
Security cameras and systems (CCTV)
Access control systems
Call boxes
Wireless data
GPS fleet tracking
E-Log service
And more
Any Communication Infrastructure Project
You can rely on us to help you design, install and maintain your communication infrastructure project which could include…
Network
Fiber optics
Network/data wiring
CCTV cabling
Preventative maintenance
Same Day Replacement for Two Way Radios
To ensure your team stays in contact, we will provide you a replacement two way radio while we repair yours. Contact us to see which temporary replacement radios we have in stock.
Full E-Log Services
You can rely on us for all your e-log service needs including…
On-site service
Parts for any system
Remote flash upgrades
Managing your inventory
Accurate maintenance records
Save $$$ With Our Service Contracts
Our service contracts save you money on maintaining your equipment and ensure you that your equipment is always in working condition. Contact us to learn how we can save you $$$ with a personalized service contract.
We Will Come to You
Our technicians can travel to your site to complete your repairs, or you can drop off your equipment at our Jacksonville service center located at

4800 Dellwood Avenue
Jacksonville, FL 32205